Plantronics Savi W445 Wireless Headset
W445 Wireless Phone Headset
The Savi W445 wireless headset is a single-ear convertible wearing style headset built for Unified Communications applications and softphones from Avaya, Cisco, Skype and others.
Wireless Freedom Without the Weight
The Savi W445 features up to 300 feet of wireless range and your choice of three wearing styles - over the ear, behind the head and over the head. The lightweight DECT™ wireless headset has best-in-class audio and eliminates interference from WiFi networks. The noise-canceling microphone reduces interruptions from background noise and the great audio quality helps decrease listener fatigue.
One-touch call answer/end, volume controls, mute and flast provide for simple call management. The W445 is designed to go where you go, whether you are working in the office or remotely. The high quality carrying case makes the Savi W445 easy to take with you on appointments while protecting your investment.
The hot swappable battery means you'll have virtually unlimited talk time. The Savi W445 stand features a built-in battery charger, and you can purchase an additional USB charger for mobile battery charging.
Add Plantronics Spokes software to get the added value of:
Call control across multiple softphones
Headset battery life indicator in PC icon tray
Customization of settings including call notification and other options in headset control panel
UC presence automatically updated when on a call when on PC and mobile calls
Note: Wireless headsets do not have the same functionality as desk phones. Click here for an article on what you can and can't do with a wireless phone headset.
Specifications: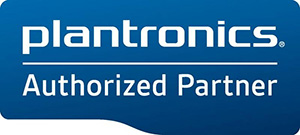 We can source any item, even from brands that are not represented on our website.