Nortel IP Phones - i2000 Series
2000 VoIP Telephones (Phase 2)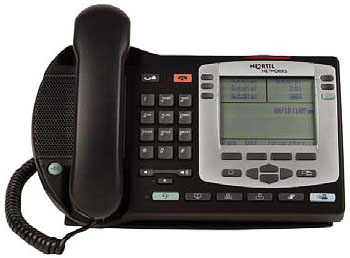 Nortel i2000 IP telephones are a cost-effective IP deskset offering specifically optimized with values and features. The Nortel i2000 (Phase 2) IP Phone Series Portfolio consists of the Nortel i2001 IP Phone, Nortel i2002 IP Phone, Nortel i2004 IP Phone, i2007, and the i2050 Softphone. The Phase 2 Nortel i2000 IP Phone Series features include an ergonomic and advanced design, high-quality handsfree speakerphone, and character-based displays.
The IP Key Expansion Module for the Nortel IP Phone i2000 Phase 2 Series is an accessory that can be added to the Nortel IP Phone i2002 and i2004 models.
The Nortel IP Phone i2000 series is an innovative portfolio of IP Phones which include multiple softkeys, integrated speakerphone, advanced audio-quality technology for crystal clear conversations, headset support and an integrated Ethernet switch for single desktop wiring. The sets can be easily customized for advanced users.
Note: Nortel 2000 Series IP Phones are compatible with Nortel BCM 50/200/400, Nortel Communication Server 1000/2000/2100, Meridian 1, Meridian Communication Server 5100/5200, Media Gateway 1000B Expansion, and Survivable Remote Gateway SRG/SRG50. Please ensure your system meets the minimum configuration requirements when ordering these IP phones.
Click below for a quote on each Nortel 2000 Series VoIP phone:
i2001 (below) | i2002 | i2004 | i2007 | 2033 | i2050
IP Key Expansion Module | Nortel i2000 Power Supply
---

We can source any item, even from brands that are not represented on our website.