Plantronics EncorePro HW710 Premium CSR Headset
HW710 Premium CSR Headset
The EncorePro HW710 headset is the thoroughbred of customer service headsets. Designed with the highest performance in mind, they deliver award-winning design, luxurious comfort and a premium look and feel.
Anything Else is Just a Headset
Reward your top performers with the top-of-the-line Plantronics EncorePro HW710, designed for customer service representatives. Its distinctive, slim, stylish design features an elegant satin finish. Its featherweight materials and leatherette ear pad ensures luxurious comfort and its unique, curved, telescoping microphone and pivoting boom deliver crystal-clear, private conversations. The EncorePro HW710 is the thoroughbred of headsets.
Luxurious Comfort. Distinctive Design
Elegant satin finish and slim, stylish design make anyone proud to wear it
Conveniently situated microphone arm stays clear of wearer's peripheral vision
Premium nylon composite materials provide an ultra lightweight design
Soft and comfortable leatherette ear cushions
Adjustable fit enhances all-day wearing comfort, ensuring representatives stay fresh and engaged
Quick Disconnect feature provides walkaway convenience and compatibility with all Plantronics USB and desk phone audio processors and direct connect cables
Exceptional Audio
Unique, extendable boom ensures precise positioning, enables optimal noise cancellation and means customers hear every word
Wideband audio delivers richer, clearer conversations and reduces listening fatigue
SoundGuard technology protects hearing against sounds above 118 dBA
Long Term Reliability
Designed for the rigours of call-intensive environments, minimizing operational disruptions and costly downtime
Reinforced, lightweight headband provides strength and durability
Slim, supple and extremely durable cables
Specifications: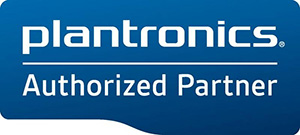 We can source any item, even from brands that are not represented on our website.