Avaya IP Office 5600 Series VoIP Phones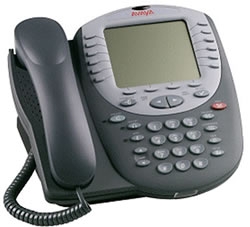 The 5600 series of VoIP phones for Avaya IP Office represents the cutting edge in Voice over IP technology.
Packed with all the business communications features one expects in a high-end business phone, Avaya went further and provided enhanced features with an intuitive user-interface to make these phones very user-friendly.
With up to 24 programmable feature buttons, these VoIP phones give you full control over your telecommunications environment.
While Voice over IP technology is relatively new, Avaya's 5600 series of VoIP phones and the Avaya IP Office system makes adding or moving phones easy.
All 5600 series phones can be easily upgraded in future through downloadable firmware updates so your investment in VoIP today will continue to pay off well into the future.
Click below for more information about each model of Avaya's 5600 series VoIP phones.
5601 (Below) | 5602 | 5610 | 5620 | EU24 Expansion Module | 1151D1 Power Supply
---

We can source any item, even from brands that are not represented on our website.