Bluetooth
®

Headsets - Mobile phone, Softphone, UC Standard, Microsoft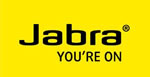 Bluetooth wireless headsets can connect to any Bluetooth®-enabled deskphones, mobile cellular (cell) phones, PDA's, laptops, etc.. As with most wireless headset systems, a handset lifter is required to answer calls remotely when using a deskphone.
Each of these Bluetooth® headsets allow you to walk up to 30~33 feet (9~10 meters) away from your Blue tooth device.
Many of these models incorporate smart switching technology that allows them to connect to two Bluetooth® devices - such as a cellular phone and a desktop softphone - detect which is ringing and automatically connect to the appropriate device.
To find out what you can and CANNOT do with a wireless phone headset, check out our Wireless Headset FAQ.
What is Bluetooth?
Bluetooth® is a wireless communication standard created by a consortium of electronics manufacturers. Electronic devices that incorporate Blue tooth technology can make their own connections without wires or direct action by a user. This technology has been incorporated into many different devices such as desk phones, computers, PDAs, cellular mobile phones and now, headsets.

We can source any item, even from brands that are not represented on our website.