Call Center Headsets
If you run a call center, this section of the Telephone Magic website is dedicated to helping you make informed decisions about the headets you purchase.
We have limited the selection of headsets in this section to those we feel TRULY provide an advantage to call center operators. In other words, these headsets will help you improve efficiency and improve call throughput, helping you make money.
Our Picks for Wireless Call Centre Headsets
Our Picks for Corded Call Centre Headsets
What Makes a Headset a Call Center Headset?
Headsets are an integral part of all but the smallest call centers, yet little information has been presented that makes the business case for one headset over another.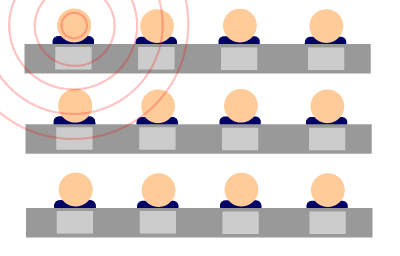 A call center is very different from an office, so headsets have to be suited to the challenges of the environment. Often there is a sound-reducing divider between agents, but sometimes, there are just rows of desks and computers without barriers separating agents.
Because of the noise levels in call centers, it is our view that any headset that is going to be used in a call center MUST have the best possible noise canceling microphone. Some headsets come with "voice tubes" (Plantronics) or "sound tubes" (GN Netcom). These tubes pick up noise in a radius of 10~15 feet, which makes them unsuitable for use in call centers, where it is important for the person listening on the phone to be able to hear the agent clearly. The diagram above illustrates the transmission of noise from one agent's conversation to another.
Now, imagine the noise transmission when ALL agents are on the phone. You can see that noise from all sides can intrude on an agent's conversation. This is why noise canceling microphones are an absolute necessity in call center environments.
Noise canceling microphones come in two varieties: standard and "ultra" or "enhanced". For an agent to perform at their best, they must be heard clearly by the caller. Because of this, we only recommend models with ultra or enhanced noise cancelation for call center headsets. If you're an agent in the middle row of our call center diagram, you can see why it's important to have the best possible noise canceling microphone. There are eight other conversations within a short radius that can be picked up by your headset if it's using a voice tube. Even a headset with "standard" noise cancellation may still pick up enough background noise to be distracting to your caller.
Of course, being able to communicate clearly with the caller means you also have to hear them clearly. This requires a good quality headset speaker. In particularly noisy environments, it may also help to have a binaural headset (two speakers, one for each ear). The headsets we recommend all provide quality speakers to make sure your agents can hear callers easily.
In addition to the above criteria, the headset has to be comfortable, durable and come with a good warranty. Our picks for call center headsets meet all these criteria.
Health and Productivity Benefits of Telephone Headsets

Ergonomists agree that anyone who uses a keyboard or takes notes while talking on the telephone would benefit from the hands-free relief provided be a phone headset. For these workers, the telephone headset should no longer be considered optional equipment, but should be an integral part of the workstation design.
When you crunch the telephone handset against your shoulder and your neck, you are compressing tissues and blood vessels and reducing blood flow. This, over time, can contribute to significant discomfort and ultimately a cumulative trauma disorder of the upper extremities. By using a telephone headset, a correct posture can be maintained and neck and shoulder pain avoided.
Headset Health and Productivity Information:
Telephone Neck Syndrome
After a while the hypercontracted muscles become irritated, cutting off their own blood supply and may go into spasm, causing Telephone Neck Syndrome (More)
Physical Benefits of Headsets
Neck and upper back muscle tension is one of the most common ailments of office workers today. New evidence confirms headsets are a cost-effective, preventative solution for office workers. (More)
Headsets Improve Efficiency
...workers (with headsets) showed an overall productivity increase of up to 43% over the control group. (More)
Why Use Telephone Headsets?
Why telephone headsets are a sound investment...
Are Telephone Headsets Cool?
"It's fun for the staff," says Old Navy spokeswoman Kirsten Maynard. "They look cool. They feel cool." (More)
Free Your Hands With a Phone Headset
By understanding what features to look for, you should be able to find a telephone headset that is a pleasure to use. (More)
Frequently Asked Questions
We answer your frequently asked phone headset questions...
Save Your Neck | Reduce Tension | Increase Productivity
Sound Investment | Headsets are Cool | Free Your Hands |FAQ

We can source any item, even from brands that are not represented on our website.