Konftel 55Wx Conference Phone
Konftel 55Wx Expandable Bluetooth Conference Phone
The Konftel 55Wx is an easy-to-use, flexible conference phone with impressive, crystal clear sound thanks to the patented OmniSound® audio technology.
HD Audio produces crystal-clear and more natural sounding speech than the sound you get with conventional phone calls. All the nuances of voice come through, making conversation more fluid. This also applies when the conference unit is connected wirelessly via Bluetooth.
The Konftel 55Wx is specially designed to be the hub of your communications. Connect your computer, mobile phone / table and desk phone for unimpeded meetings with superior sound quality. Moreover, VoIP calls can be bridged with calls via a desktop or mobile phone. Switch connections easily using the smart touchscreen that only displays the current connections.
In addition to great sound, the Konftel 55Wx conference phone has a recording feature. Record calls or dictations on a memory card and play, save or share them. The units are easy to take with you and look just as good on a desk as in the conference room.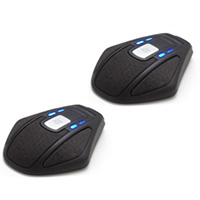 UC Integration
The Konftel 55Wx provides UC with no restrictions; versatile and integrated communication whatever your tool of choice. This conference phone connects direct to Skype for Business, Cisco Jabber or Avaya Communicator on your PC. The smart feature layer in the 55 series software makes call function in the UC client available on the Konftel 55Wx's colour touch screen.
Expandable
The Konftel 55Wx can be outfitted with optional expansion microphones to accommodate meetings of up to 20 people.
Konftel 55Wx Conference Phone Documentation:
Return to the Main Konftel Conference Phone Page

We can source any item, even from brands that are not represented on our website.