Avaya 3641 Wireless IP Phone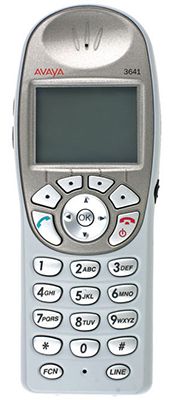 The Avaya 3641 IP wireless telephone is ideal in any work environment and addresses the day-to-day rigors of the mobile user across many industries with back-lit keypad and large display. It is lightweight yet rugged in design making it a reliable option being resistant to dust, shock, and liquid damage.
The Avaya 3641 IP cordless phone convenience of the built-in speakerphone and headset compatibility increase productivity and responsiveness for the user. The extended battery options increase accessibility by providing 24 hour operation.
The Avaya 3641 IP phone handset integrates with Avaya Aura™, Avaya Communication Manager R2.2 and higher, and Avaya IP Office R4.1 and higher. The handset leverage the Avaya Voice Priority Processor and the Open Application Interface server, and are compatible with 802.11a, b, and g networks.
Avaya 3641 IP Wireless Phone Features:
128 x 96 backlit display with icons and line-status indicators
Standard Battery - 4 hours talk time, 80 hours standby time
Optional Extended Battery - 6 hours talk time, 120 hours standby time
Optional Ultra-Extended Battery - 8 hours talk time, 160 hours standby time
802.11a, 802.11b, and 802.11g standard-compatible
Dust, shock and liquid damage resistant
Headset jack (2.5mm)
Speakerphone
Audible and vibrating alerting
Avaya 3641 IP Cordless Phone Documentation:
Avaya 3641 / 3645 Wireless Phone Data Sheet
Back to the main Avaya wireless phone page.

We can source any item, even from brands that are not represented on our website.